Private at-home yoga & pilates classes in London with a qualified trainer
Enjoy a private yoga & pilates session, custom-tailored to your physical condition and level of fitness!
Suitable for folks of all levels - from beginners to advanced
Fully vetted and experienced private yoga & pilates instructors
Unmissable one-to-one opportunity, superior to any online classes
Improving your range of motions, flexibility and state of mind
Your private yoga & pilates lesson in 4 easy steps
1.
Select your private yoga or pilates session
Choose the most appropriate yoga practice for your personal needs or go for a pilates lesson at home with a personal trainer.
2.
The instructor will come wherever you are
If you reside anywhere in London (zones 1-6), you can take advantage of a convenient at-home yoga or pilates lesson. Just enter your postcode online!
3.
Book for a day & time that suit you
Select the most suitable day and time! The private instructors work from 7 am until 10.30 pm, all week round, including weekends.
4.
Get stronger and fitter with every session
Strengthen your core muscles, improve your range of motion, rehabilitate old injuries and find peace within yourself!
A range of yoga practices and pilates lessons in London with private instructors
Beginners Hatha Yoga
Ideal for beginners, a Hatha yoga practice in the comfort of your home will introduce you to the concept of yoga with a few basic poses and sequences. From learning how to breathe properly to mastering various types of asanas, you'll soon feel that your body energies are balanced and your mind - much calmer and focused, ready to enter a gentle meditative state.
Ashtanga Posture Sequence Yoga
If you choose a private Ashtanga yoga lesson, expect gradually building up your stamina and flexibility while focusing on your breathing. The practice is designed to purify the body and mind through a series of primary, intermediate and advanced sequences of postures. Your personal yoga teacher will evaluate your level of fitness before your Ashtanga session begins.
Vinyasa Fast Flow Power Yoga
A more advanced practice, Vinyasa fast flow power yoga combines concepts from flow and power yoga styles. You'll be introduced to various sequences of postures that are performed in a dynamic manner and without interruption between poses and sequences. By controlling your breathing, you'll be able to execute each movement-intensive series without stopping - a great workout as an end result.
Pilates Strength & Stability
Pilates exercises can easily fall into the category of rehabilitative fitness practices, as it is thought to help relieve joint pains and aches. The fitness system incorporates several principles, such as controllability, concentration, flow, posture alignment, relaxation, stamina, precision, breathing and more - all needed to achieve strengthened deep muscles, especially in the body core area. Your private pilates instructor will assess, again, your initial level of fitness to begin with.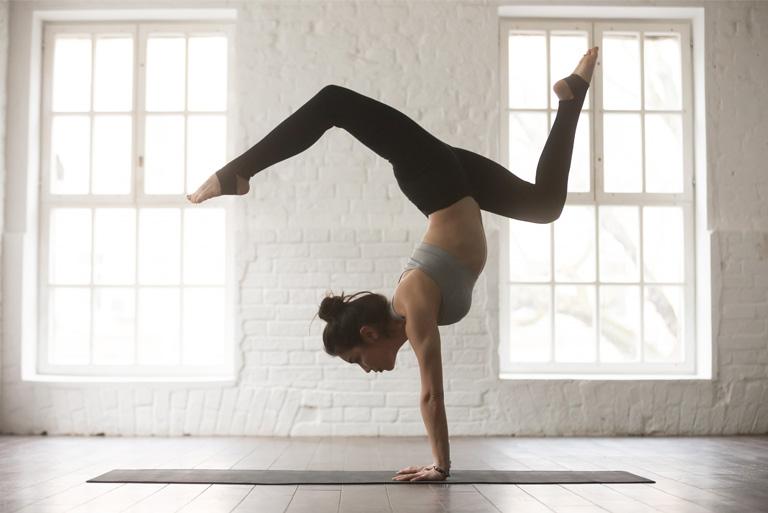 Why choose an at-home yoga or pilates lesson with a personal trainer
There is nothing more productive and rewarding than trying to get fitter and healthier with the help of a personal trainer and without the need to leave your home. And private yoga or pilates lessons can achieve this in a more gentle way than other types of exercise systems, with your individual needs in mind. Here's why an at-home session is superior than online or group yoga and pilates classes:
A personalised approach - Once your private pilates or yoga instructor evaluates how physically fit you are, they will tailor your chosen practice or system of exercises to your unique needs. So, worry not about how flexible you are, as a pose or sequence of postures can be easily modified to take an old injury of yours into consideration, for instance.
Highly trained and vetted personal trainers - Our trusted partners work with qualified and fully background-checked mobile yoga and pilates teachers, so rest assured that you will be in good and trusty hands throughout your at-home fitness session.
Convenience and a stress-free environmen - As you don't have to attend a large-group yoga class, you can enjoy a relaxing one-to-one private lesson at home, where your instructor can take the time to guide you and explain each routine and pose, should you have any questions and uncertainties.
Fast progress and higher engagement - You'll soon notice that your stamina and progress develop rapidly, as your level of focus is maintained far better than if you participated in an online class or watched a video session.
Frequently asked questions
Q: Do I need to prepare in any way for my private yoga or pilates lesson?

A: Please, make sure you've got your own mat ready and put on some comfortable clothing, such as leggings and a T-shirt.

Q: What are the benefits of practising yoga?

A: Yoga is not only beneficial for achieving body strength and flexibility, as well as breathing control. The therapeutic effect on the mind and soul are also profound. Your mental well-being will be improved, especially if you suffer from anxiety or mild depression.

Q: How do I choose what yoga style I should practise?

A: You can book a beginner's yoga practice to start with and your private instructor will guide you further on what you'll benefit best from after they assess your level of fitness.

Q: And what about deciding between yoga and pilates?

A: Well, this is, indeed, a personal choice that you can make most likely by trying out the two in initial private sessions. To help you a little, if pilates is a more energetic fitness system that focuses on tightening the deep abdominal and back muscles, yoga has a more all-round approach, targeting your physical, mental and spiritual development and well-being.
Q: How long does an at-home session last?

A: You can choose from a 60-minutes or 90-minutes private yoga or pilates session, as regularly as you need to. Also, feel free to invite a friend or family member to join you for a small additional fee.

Q: I have never practised pilates or yoga before. What if I'm not fit or flexible enough to even start?

A: Both pilates and yoga are systems that can be enjoyed at any age. Your personal trainer will gently and gradually introduce you to all the basics so that you can build up your confidence and range of motion without any significant strain on your body. Both are ideal for improving your flexibility and strengthening your muscles.
Hire a private mobile yoga or pilates instructor for a productive one-to-one fitness experience!