Fantastic Club
Book 25+ services at even more Fantastic rates
Become a member of the Fantastic Club for an annual fee of only £49 to enjoy exclusive deals with up to 40% discount for:
Cleaning
Gardening
Tradespeople
Builders
Removals
Waste Removals
Pest Control
More
The benefits you get as a member
Get 10% OFF 25+ services*For example, book a Handyman for 2 hours for £94 (save £11) or Garden maintenance for 2 hours for £87 (save £10).
Exclusive deals and perksGet access to member-only booking slots and exclusive deals with up to 40% discount.
Save 20% from Domestic cleaningBook domestic cleaning regularly at £12/h (save 20%) and get your membership fee back within the first 6 visits.
No cancellation fees + money-back guaranteeNo cancellation fees and 100% money-back guarantee on your membership within 30 days of purchase.
How to become a member
4 simple steps to join the 5 0 7 4 clients who already save from every service!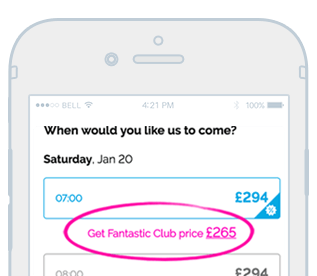 1.

Choose the service and time slot you want to book.

2.

Click on the discounted 'Get Fantastic Club price' link.

3.

Add the annual membership fee of £49 to your booking.

4.

Finish your discounted booking and membership purchase. ...and welcome to the club! :)
CHECK MEMBERS PRICES
OR purchase your membership here.
Right now you might be wondering...
Q: The membership doesn't get renewed automatically, right?

A: Yes, it doesn't. We will make sure to notify you before your membership ends so you can renew it and continue booking all the services you want at discounted rates.

Q: Can I transfer the ownership of my Fantastic Club to someone else?

A: No, the membership cannot be transferred to another person. But as a member, you can book a service for any property anyway.

Q: Can I cancel my membership?

A: Yes, you can. Keep in mind that we have a 100% money-back guarantee so if you decide to cancel it within the first 30 days of purchase, we'll refund your membership fee.

Q: Are there any other membership plans?

A: No, we have only an annual membership for now. It's a single payment of £49.