End your infestation problems with Pest Control in Sheffield
Rid your home from any type of pest with Fantastic Services. from

£45

for a pest inspection
Short-notice booking options
Extensively trained exterminators
Quick & efficient results
Safe pest extermination methods
Enjoy a pest-free home in 3 simple steps
Booking
Schedule your pest control service online.
Inspection & Treatment
Аn exterminator will arrive at your property. The technician will treat the infested areas.
Enjoy
Your pest problems are solved!
Other Pest Control Services Provided in Sheffield
Take advantage of all year round service discounts with our Fantastic Club membership program. Become a part of the family today and save a considerable amount of money tomorrow!
Take advantage of all year round service discounts with our Fantastic Club membership program. Become a part of the family today and save a considerable amount of money tomorrow!
Fantastic Services helps local Sheffield exterminators in the fight against pest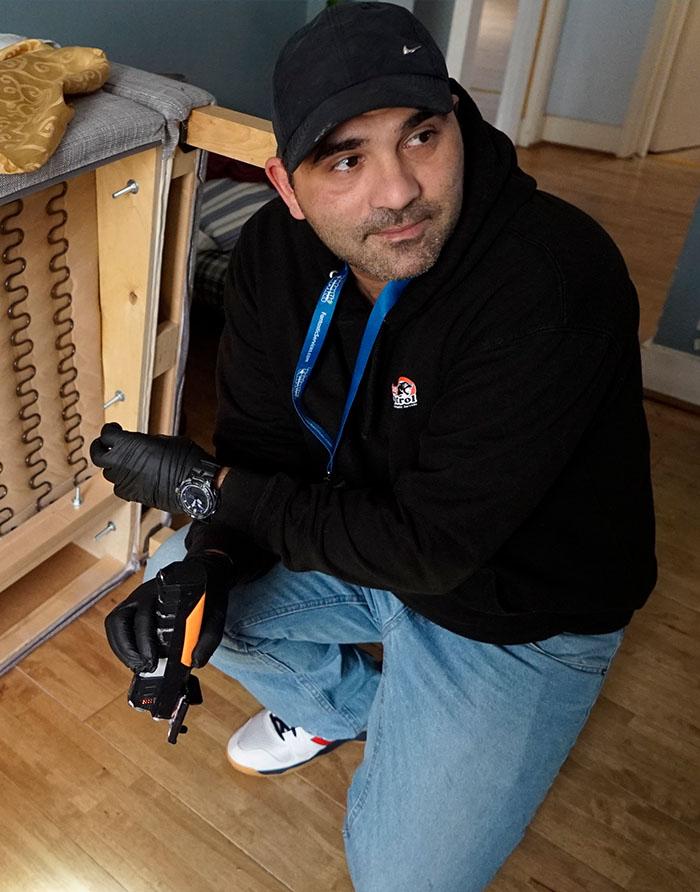 Daniel Bradley
Pest Control

Teams:

3

Franchisee since:

March

2018
Do you know what puts the "Fantastic" in Fantastic Services? The amazing and trustworthy people we have the pleasure to work with. With that being said, we introduce you to one of our very best franchisees - Daniel Bradley.
We have been working with Daniel side by side since 2018. His area of expertise is pest control and let us tell you this - he knows what he's doing and is serious about it. Through the time, we've been working together, Daniel Bradley has rescued quite a big number of families from unwanted visitors like mice, rats, and bed bugs. With a never-failing battle strategy and high-end equipment, the professional can get any type of pest literally running for its life.
Under our wing, Daniel managed to level-up his skills and business extremely fast. After all, helping devoted tradesmen like him is on top of our priority list because we understand what an important role a flourishing business can play in a communities growth.
"The technician was on point in every manner! He was at the property in the arranged time and he presented me with a report at the end of the service, which explained everything that has been done by him. He even gave me some tips to prevent future mouse infestation, I was quite scared I would never get rid of the rodents..." – O. Connor, S1
So there you have it. This is how our approach makes everyone involved happy. We call this the 360-degree happiness philosophy. And by adhering to the Fantastic standards of quality, we ensure that our clients will stay consistently pleased with the services they received. And if you happen to be a local tradesman who is interested to operate under the Fantastic Services brand, then you can learn more about our business opportunities. Find out more here.
Full coverage
Get your Sheffield pest control services quote & check our availability
All you need to do is to enter your postcode and follow the steps to see the availability of our pest control service for your area in real time. After that you can make a booking for day and time that suit you best.
Working hours: Mon - Sun
Monday

9am - 5pm

Tuesday

9am - 5pm

Wednesday

9am - 5pm

Thursday

9am - 5pm

Friday

9am - 5pm

Saturday

9am - 5pm

Sunday

9am - 5pm
Close
Our coverage in Sheffield:
Postcodes: S1, S2, S3, S4, S5, S6, S7, S8, S9, S10, S11, S12, S13, S14, S17, S18, S19, S20, S21, S25, S26, S30, S31, S32, S33, S35, S36, S40, S41, S42, S43, S44, S45, S49, S60, S61, S62, S63, S64, S65, S66, S70, S71, S72, S73, S74, S75, S80, S81, S95, S96, S97, S98, S99.
Areas we cover within the city: Attercliffe, Beauchief and Greenhill, Beighton, Birley, Broomhill and Sharrow Vale, Burngreave, Chapeltown, City, Crookes, Crookes and Crosspool, Crosspool, Darnall, Darnall, Dore and Totley, East Ecclesfield, Ecclesall, Firth Park, Fulwood, Gleadless, Gleadless Valley, Graves Park, Grenoside, Handsworth, Heeley, Hemsworth, High Green, Hillsborough, Longley, Lowedges, Loxley, Malin Bridge, Manor Castle, Manor Park, Meersbrook, Middlewood, Millhouses, Mosborough, Neepsend, Nether Edge and Sharrow, Netherthorpe, Osgathorpe, Owlerton, Park and Arbourthorne, Park Hill, Pitsmoor, Ranmoor, Richmond, Sharrow, Shiregreen and Brightside, Southey, Stannington, Stocksbridge and Upper Don, Tinsley, Totley, Upperthorpe, Wadsley, Wadsley Bridge, Walkley, West Ecclesfield, Westfield, Whirlow, Wisewood, Woodhouse, Woodseat.
Other locations nearby: Abbeydale, Bolsterstone, Bradfield, Bradfield Dale, Brightholmlee, Brightside, Carbrook, Deepcar, Dore, Dungworth, Ecclesfield, Ewden Village, Hackenthorpe, High Bradfield, Holdworth, Hollow Meadows, Low Bradfield, Midhopestones, Oughtibridge, Ringinglow, Stocksbridge, Storrs, Ughill, Upper Midhope, Wharncliffe Side and Worrall
Frequently Asked Questions
Q: Can I arrange a same-day service appointment?

A: It highly depends on current availability. We here at Fantastic Services do everything we can to assist in emergency situations, especially those related to pest problems, so in case there is an available technician, then we shall dispatch them to aid you.

Q: I think I have a rat or a mouse problem but I am not sure what is going on. Can you help?

A: Sure, just book an inspection for your property and the pest controller will be able to determine exactly what kind of infestation you are dealing with. After that, he can come up with an effective action plan and treat the affected areas.

Q: I have a bed bug infestation that is absolutely out of control, how can you help?

A: In serious cases like these, we have two bed bug eradication options. You can book our heat treatment that takes care of the issue for good in just two hours. The other option is our 3-month guarantee bed bug treatment. The service includes one major treatment from an exterminator and two free of charge follow-up visits.

Q: Do you dispose of the dead rodents after you're done with the mouse pest control?

A: Upon your request, we can arrange an additional visit in which an exterminator will come to collect the mice carcasses. Bear in mind that the service has some limitations when it comes to the location of the dead animals. For instance, if the mouse died underneath your floorboards, the professional won't be able to remove it for you.
Q: How is the service charged?

A: We charge the pest control service per job, which means that the technician will stay as long as the situation requires so the treatment is carried out accurately.

Q: Is there any way to get a discounted price?

A: Yes, you can join our Fantastic Club and benefit from many special offers.

Q: Do you accept card payments?

A: Yes, you can pay online with your card, using our online booking system.
Need help with anything else in Sheffield?
UPDATE: We remain open for business during the national lockdown.