Enjoy fresher carpets & a healthier household in 4 simple steps
1.
Make an online booking for a date and time you prefer
2.
A fully equipped technician will show up at your doorstep
3.
He will carefully inspect and clean your items on site
4.
Enjoy refreshed carpets & rugs and a much healthier home
Carpet cleaning prices
Cleaning Method
Lounge 12x12 feet
Dining room 12x12 feet
Through Lounge 28x12 feet
Hallway 10x4 feet
Staircase up to 14 steps
Bedroom 12x12 feet

For synthetics, mixed, wool fibre

Hot water extraction

£27

£27

£47

£13

£27

From

£22
Hot water extraction + Stain protection*

£34

£34

£60

£20

£34

From

£29
Hot water extraction + Stain protection + Insecticide treatment

£41

£41

£73

£27

£41

From

£36

For delicate, natural fibre

(cotton, sisal, organic)
Dry cleaning

£29

£29

£51

£15

£29

From

£23
*Stain protection (Scotchgard) - Up to 6 months stain protection guarantee, recommended for high traffic areas + prolonging the life of your carpeting.
T&C and Minimum Charges apply. When we calculate the price, we also take into consideration the area's dimensions and the time of the appointment. All prices and deals are valid for areas within M25. Deals cannot be combined with any other deals and promotions. Prices are subject to availability. Congestion charges are excluded (when applicable).
Get an instant quote and check our availability in your area
Professional carpet & rug cleaning in London and the rest of UK
Even if you are not sure exactly what kind types of carpets and rugs you have, your technician will examine them and determine the best way to clean them.
Synthetic/Mixed Fibre




For the majority of carpeting, we use hot water extraction cleaning, also known as steam cleaning. This is the most advanced and effective deep carpet cleaning method recognised by professionals worldwide and it is great for spot cleaning. And if it can't clean a stain from a carpet, then nothing will!

Delicate/Natural Fibre




And what about that lavish oriental rug you keep in front of the fireplace? Well, that's something we can help you with as well. When the carpet technician examines your items, he will determine if they should be dry cleaned or not.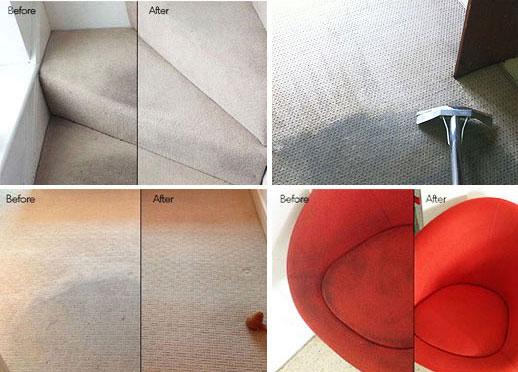 How does Hot Water Extraction work?
Suitable for synthetics/mixed fibre
Step 1: Pretreating the item
Before the actual cleaning procedure takes place, the technician will vacuum clean the carpet to remove that first layer of loose dust. Then, he will examine the stains (if any) and choose the appropriate detergent for each. Spilled drinks, greasy food splatters, and so on – whatever it is, it will be dealt with accordingly. However, keep in mind there are stains that permanently damage the fabric and they are impossible to clean. If our methods can't clean them, nothing will.
Step 2: Main cleaning procedure
This is absolutely the most efficient carpet cleaning method on the market. It brings even the most blemished carpets back to life. Here is how it works:
The technician uses a professional machine to deep clean every inch of the carpet.
The nozzle ejects pressurised water mixed with a detergent. This easily dislodges all accumulated grime and dust.
At the same time, a powerful suction attachment is removing all the excess moisture from the piece (along with the loosened dirt).
This way, your carpet is being cleaned and dried at the same time, with no risk of damage – nearly 95% of the moisture is removed almost simultaneously.
NOTE: Clients who use our carpet cleaning services also book professional upholstery & curtain cleaning. So you can have all these items cleaned in one sitting by the same technician to achieve even better or rather fantastic results!
Step 3: Short drying time
After hot water extraction, the item is slightly damp and needs 3 to 6 hours to air-dry on its own. We will also bring an air-mover for free for the duration of the service. It will be situated near the treated carpet. Тhis will significantly speed up the drying process (with a few hours) by increasing the airflow.
We are certified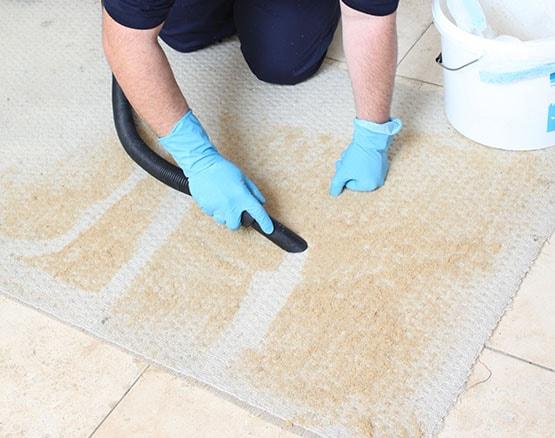 Dry carpet cleaning method
Suitable for delicate/natural fibre
Step 1: Low moisture powder is applied evenly on the carpet.
Step 2: It is rubbed in with а rotating brush at a safe speed. When the powder is rubbed in, the dirt and other unsanitary agents attach to it.
Step 3: At the end, the powder, along with all the loosened dirt, are removed with a power-vacuum.
NOTE: This cleaning method is great for refreshing delicate rugs and carpeting but please keep in mind that it can not remove stains.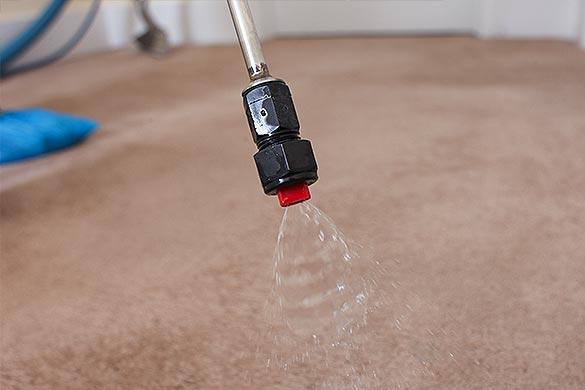 Clients also book...
Stain Protection - Scotchgard
It would be a total shame if some accidental spill reaches your carpet after the professional deep cleaning. So, to protect your freshly cleaned items and prolong their life, your carpet cleaning technician can use the highly effective stain repellent on them. The repellent is applied evenly on the pile of each individual item and it will take some time for it to dry out, but it will later provide reliable protection against all kinds of stains by not allowing them to settle on your rug's surface. This way, your items will remain fresh much longer and they will be a lot easier to clean the next time.
Up to 6 months stain protection guarantee, recommended for high traffic areas + prolonging the life of your carpeting.
Insecticide Treatment
There are many bugs (such as carpet beetles and cockroaches) that find carpets comfortable. If you wish, your technician can treat your floor covers against certain pest bugs so you can be sure that you won't have to deal with any creepy crawlies in the future.
Frequently asked questions
Q: How much time does the service take?

A: Well, it depends on a lot of things. To give you a rough example, a single bedroom carpet usually takes around 30 minutes. But keep in mind that factors such as the condition of the carpet need to be considered as well.

Q: How many technicians will come?

A: We will send a single certified technician to your place. He will bring all the necessary equipment and detergents to complete the rug cleaning service on site.

Q: Can the technician move the furniture around?

A: Well, if it comes to a coffee table and a chair or two, sure, no problem – the cleaner will be happy to help as long as it's something minor. But when it comes to heavy furniture, you should prepare the room in advance.

Q: How long does it take for the carpet to dry out?

A: Carpets made of synthetic fibre will usually air-dry on their own in 3 to 6 hours. Wool, on the other hand, will stretch the timeframe from 4 to 8 hours. We will also bring an air-mover for free. It will significantly speed up the drying process by increasing the airflow.
Q: Can you guarantee successful stain removal?

A: There are stains that simply damage the carpet and leave a permanent mark – hair dye, certain chemicals and so on. However, if we are unable to remove the stain, nothing will!

Q: Do you take the carpet away?

A: No, the technician brings everything necessary to complete any of our professional carpet cleaning services on site. This is way more efficient and time-saving.
We can do much more than carpet cleaning: