Have your pest control in Bristol handled by pros
Put an end to your war against unwanted guests with Fantastic Services! from

£45

for a pest inspection
24/7 service availability
Pet & child-safe pest control solutions
Performed by trained local exterminators
Special deals and discounts with our Fantastic Club program
Follow these steps for a vermin-free home
Book Your Service
Use this website or our app to book your pest control service.
Inspection & Treatment
A highly trained exterminator will come to check your property. If required, the professional will continue with a pest control treatment.
Enjoy
Experience lasting protection from future infestations.
Pest control services in Bristol
Looking for a discount? Become a part of the Fantastic Club family and receive cool benefits, perks, special offers and more for one whole year!
Looking for a discount? Become a part of the Fantastic Club family and receive cool benefits, perks, special offers and more for one whole year!
Fantastic Services supports local Bristol businesses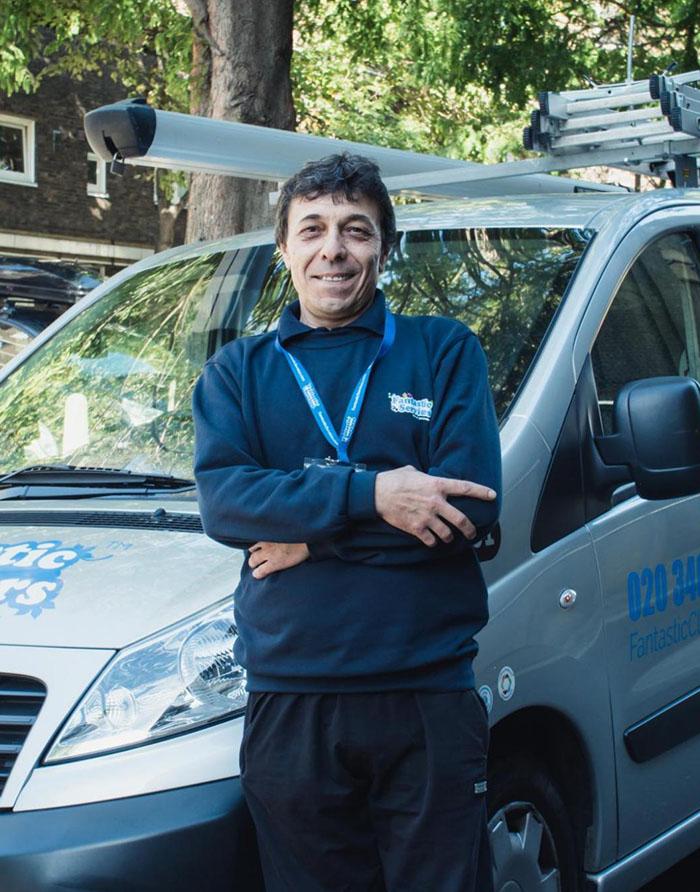 Martin Grant
Pest Control

Teams:

3

Franchisee since:

2018
Fantastic Services strongly believes that in order for a local company to be successful, it needs to be socially responsible. That's why we developed a special franchise program that we're really proud of. Throughout the years it has helped us find many hardworking and skilled professionals. This is how we came in contact with the devoted pest exterminator, Martin Grant.
Martin has been working with us from way back in time, and let us tell you this - the man knows what he's doing. With a can-do attitude and more than 10 years of experience in the pest control industry, Martin became one of our most booked exterminators. There isn't a pest species that can put up a fight against his advanced methods. He is always ready to assist any household in distress no matter if it's Sunday afternoon or 3 in the morning.
"Amazing! I was able to book my service with a single chat, that took me a couple of minutes. The service was prompt and well executed. I would recommend this provider, if you are in need of pest control, ASAP." – K. Shelley, BS1
We like to think of ourselves as one big family. Providing optimal conditions and quality to the people we work with and our clients is a top priority for Fantastic Services. And we are extremely proud of our franchise program as we know that by doing this we can expand our services and support all the local tradesman at the same time. Combining our years of experience and desire to provide high-quality services to our clients, we are always looking for local professionals who share the same business vision. This way our brand is always growing and more and more people can benefit.
Full coverage
Take a look at our prices and availability right here
You only need to choose the service you want in the first box, your postcode in the second and click that pretty pink button.
Working hours: Mon - Sun
Monday

9am - 5pm

Tuesday

9am - 5pm

Wednesday

9am - 5pm

Thursday

9am - 5pm

Friday

9am - 5pm

Saturday

9am - 5pm

Sunday

9am - 5pm
Other locations we cover nearby Bristol
Close
Our coverage in Bristol:
Postcodes: BS1, BS2, BS3, BS4, BS5, BS6, BS7, BS8, BS9, BS10, BS11, BS12, BS13, BS14, BS15, BS16, BS17, BS18, BS19, BS20, BS30, BS31, BS32, BS33, BS34, BS35, BS36, BS37, BS39, BS40, BS41, BS48, BS49, BS98 and BS99.
Areas we cover within the city: Ashley, Ashton Gate, Ashton Vale, Avonmouth & Lawrence Weston, Baptist Mills, Barton Hill, Bedminster, Bishopston & Ashley Down, Bishopsworth, Bower Ashton, Brentry, Brislington - Central, East and West, Canon's Marsh, Chester Park, Clifton, Clifton Down, Cliftonwood, Conham, Coombe Dingle, Cotham, Crew's Hole, Crofts End, Easton, Eastville, Filwood, Frenchay, Frome Vale, Golden Hill, Greenbank, Hanham, Hartcliffe & Withywood, Headley Park, Henbury & Brentry, Hengrove & Whitchurch Park, Henleaze, Hillfields, Horfield, Hotwells & Harbourside, Kensington Park, Kingsdown, Knowle, Lawrence Hill, Little Stoke, Lockleaze, Lodge Hill, Mayfield Park, Monks Park, Montpelier, Redfield, Redland, Ridgeway, Sea Mills, Shirehampton, Sneyd Park, Southmead, Southville, Speedwell, Spike Island, St Andrew's, St Anne's, St George Central, St George Troopers Hill, St George West, St Philip's Marsh, St. Jude's, St. Paul's, St. Werburgh's, Staple Hill, Stapleton, Stockwood, Stoke Bishop, Totterdown, Tyndall's Park, Upper Knowle, Westbury Park, Westbury-on-Trym, Westbury-on-Trym & Henleaze, Whitehall,  Windmill Hill and Withywood.
Other locations nearby: Ashley Down, Avonmouth, Blaise Hamlet, Downend, Emerson's Green, Filton, Fishponds, Hambrook, Kingswood, Longwell Green, Mangotsfield, Oldland Common, Patchway, Stoke Bishop, Stoke Gifford, Warmley, Willsbridge and Winterbourne.
Frequently Asked Questions
Q: Can I book my service for a Saturday or Sunday?

A: Of course you can! Fantastic Services understands how difficult a pest infestation can get and strives to provide 24/7 service options. Give us a call and we'll do everything possible to find you an available exterminator.

Q: I have a pest problem in my restaurant, can you assist me?

A: Absolutely! We work both with domestic and commercial clients. Just contact us so we can schedule your pest control appointment. We can send a team in an unbranded car, to be more discreet.

Q: Do you remove rats?

A: Yes, we do. You can opt for our rat pest control services.

Q: I have a bed bug infestation that is getting out of hand. Can you help me with it?

A: Fantastic Services offers an effective guaranteed bed bug treatment with two additional visitations that you can get within a 3-month period. We also highly recommend our heat treatment. It'll get rid of the intruders in just two hours and has a 100% success rate.
Q: Can I pay for the pest control services in cash?

A: No, isn't an option. You can pay online with a card or a bank transfer.

Q: Can I get a discount on my treatment?

A: Of course, the only thing you are required to do is become a member of our Fantastic Club. Also, you get bonus benefits like special deals and perks.
Other services that you can benefit from in Bristol
COVID-19 UPDATE: Fantastic Services remains fully operational during the November lockdown.
Read more